Philatelic Exhibitions in the Czech Lands

What do we know about them and what do they say to us ?

First time published in the

Czechoslovak Specialist 2004

ceský obsah:

Tento text se zabývá historií

a filatelistickou dokumentací fil. vystav na uzemi CR pøi zohledneni historickeho ramce dane etapy

Philatelic exhibitions are important events for all collectors. Once I have got an idea – how much philatelic exhibitions has been organized in the Czechoslovakia ? I started to study philatelic journals, books and other sources to find as many as possible of them. It was interesting trip, because the history of philatelic exhibitions is much connected with history of philatelic movement as well as political situation in our country. Let's start our journey to the past!

I was surprised to find, that first of phil. exhibitions come from the 19th century, when the postage stamps and philately were born. Philately come to Austro-Hungarian Monarchy from Germany, where first phil. organizations of Central Europe were founded and first philatelic exhibitions were hold.

The first exhibition on the territory of Austro-Hungarian Monarchy (to which Bohemia, Moravia and Slovakia belonged) known to me was organized in Vienna by collector's club Vindobona in 1881. Such exhibitions can be understood as prologue to the Czechoslovak ones, because Czech collectors took part in them and gained their first exhibiting experience there. Finally, in 1894 the first international philatelic exhibition was hold again in Vienna.

First "philatelic" exhibition on Czechoslovak territory was organized in 1888 in Brno. The exhibition was a general exhibition celebrating 40th anniversary of Emperor Franz Joseph's governance containing a philatelic section. It was usual at that time to incorporate philatelic show into a general exhibition in order to promote philately among public.

In 1887 the first Czech philatelic club on Czechoslovak territory was founded in Prague by Mr. Vincenc Jedlicka (founder and first chairman) and it was called Klub ceskych filatelistu .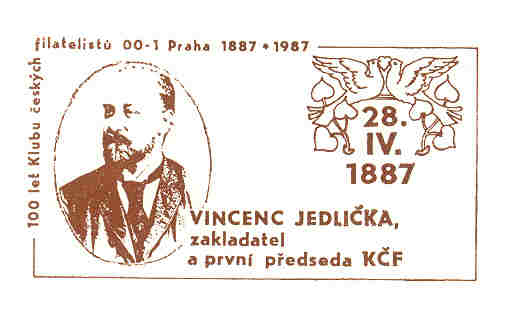 Mr. Jedlicka, first Chairman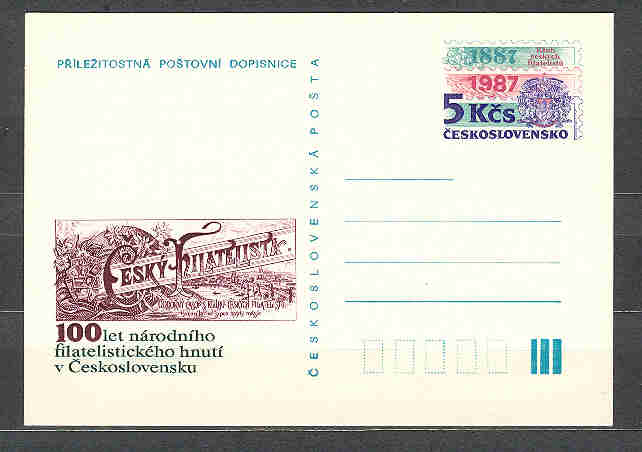 Postcard celebrating 100th anniversary of Klub ceskych filatelistu founding

Members of the club (especially its chairman Mr. Sula) played important role in issuing the first Czechoslovak Hradcany issue and in organization of 1914 exhibition. Klub ceskych filatelistu was also publisher of first Czech philatelic journal called Cesky filatelista . This club still exists, it bears a prestige name Klub filatelistù 00-01 showing it was the first one.

But the club was not first philatelic club in the Monarchy. The German-speaking collectors founded their first club yet before 1887, e.g. in 1885 was founded in Prague so called "Deutscher Verband für Briefmarkenkunde in Prag". Surprise was, that really first phil. clubs were founded outside of Prague : in 1874 Mr. Veith established club "Philatelica" in Brno.

Some collectors were members of German philatelic club of Heidelberg "Süddeutscher Philatelistenverband". You should be aware, that originally the philately in Czech lands was divided into German philately (leading movement) and Czech philately, yet in late 20s quantity of German clubs in Czech lands was higher than the quantity of Czech organizations. Czech philatelic movement was not so strong – it was not supported by the authorities, who saw in it just another form of Czech independence movement – e.g. founding of the above Klub ceskych filatelistu in 1887 should be repeated, because in the founding meeting no representative of Prague Police Direction took part, so the club was an illegal organization.

The collectors joined usually philatelic clubs as per their nationality or political opinion, but because of common interests in philately the Czech and German organizations usually co-operates with exception of few moments, when the attitude between Czech and German population was influenced by political events (WWI, WWII etc.) .

The German philatelic clubs were more active at that time, they published first philatelic journals on the Czechoslovak territory (first of them was journal "Der Deutsche Briefmarkensammler" published in Usti/Labem since 1869). Their list you can see in Mr. Janík ´s Bibliography on the Internet (for address see end of the article) .

At that time first stamp dealers in Bohemia opened their businesses in Prague. First of them were probably companies of Mr. D. Vlaschim and Mrs. M. Stohlova set up in 1896 . It is crazy, that first woman – philatelist was a stamp dealer and first woman – collector joined Klub ceskych filatelistu yet in 1904. This is not the only case, when a lady owned a stamp house. The reason for this was usually the occupation of a man - collector, who officially can not set own business (e.g. because he was state employee), so the companies was owned by his wife.

In 1887 Mr. Zikmund Reach, Czech collector and member of Klub ceskych filatelistu, published first postage stamp album in Czech language, which was very popular among collectors and attracted many of them to the philately. It was published many times by WWI .

Czech philatelic literature usually states, the first philatelic exhibition on Czechoslovak territory was open in 1914 in Prague. I don't agree with the statement, because yet in 1903 a small philatelic exhibition was organized in Prague to celebrate the 15th anniversary of Klub ceskych filatelistu´s founding.

But it is true, that the 1914 exhibition was the most important exhibition hold in Czech lands before WWI. It was just small exhibition with exhibits of collectors from whole Bohemia and Moravia as well as with exhibits from few young collectors. Organization of the exhibition was so expensive, that the club had to limit its activity for short period as well as its members changed board of the club.

After fall of Austro-Hungarian Monarchy and the establishment of Czechoslovak Republic in 1918, the first years were aimed at reconstruction of economy of the

new state as well as at setting of its borders, so that philately played little role in life of the whole society (probably with exception of some events like issue of Pošta Èeskoslovenská 1919 or SO 1920 issues). But in these years the future philatelic expansion began. The first Czechoslovak stamps of 1918 (so called Hradcany stamps issued on Dec. 18, 1918, attracted new collectors).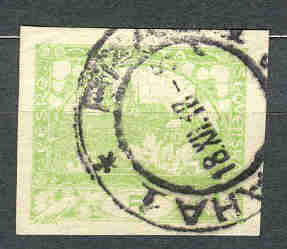 Hradcany stamp used on its first day of issue – Dec. 18, 1918
On Dec. 18, 1918, the Prague Postal Museum was also founded, the legislation of the new state enabled easy creation of various societies and clubs.
The philatelic exhibitions in Bohemia and Moravia re-started in the 20s. In 1921 the Czech philatelic clubs established Svaz cs. filatelistickych spolku (Union of Czechoslovak philatelic clubs) as body representing interest of Czech and Slovak collectors. The German collectors founded similar body called Deutscher Philatelisten Verband yet in the time of Austro-Hungarian Monarchy.
The first philatelic exhibition after WWI was hold in Hradec Králové in 1922 and 1 year later the first international philatelic exhibition was organized in Brno (Brno 1923). First philatelic exhibitions on Slovak territory was organized in 1928 in Bratislava.
This positive situation in whole society and non-involvement of public authorities into the philately led to friendly co-operation of Czech and German philatelic movements and especially to the founding of new philatelic clubs in whole country. The philatelic club of Jindøichùv Hradec organized in 1925 first meeting of Czech philatelic clubs (called Sjezd cs. filatelistu) combined with philatelic exhibition. The German collectors organized regularly similar meetings called "Briefmarkentage" using various special cancels to commemorate the events .
In 1926 Czechoslovakia become one of the founders of International Philatelic Federation (F.I.P.), when Czechoslovak representative Mr. Reznicek signed F.I.P. founding document.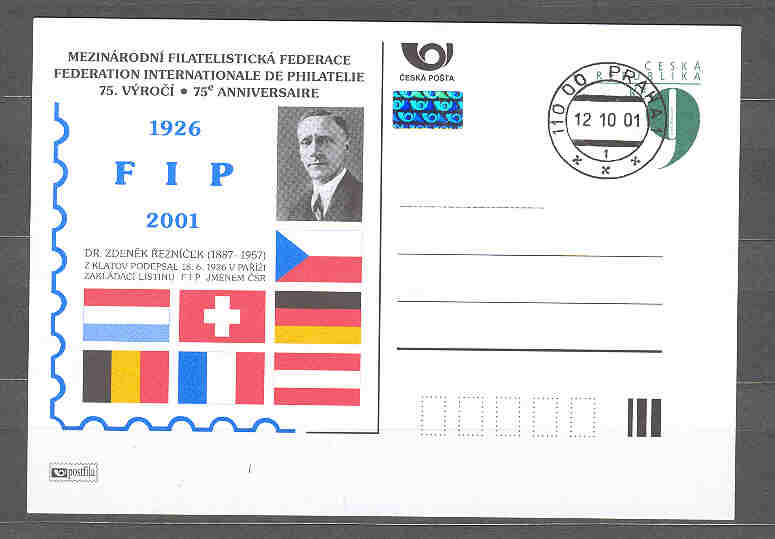 A postcard showing Mr. Reznicek
In 1980 Czech collector Mr. Dvoracek was elected for F.I.P. ´s President. His presidency was the only case, when an international organization consisted of both capitalist and communist countries was headed by a man of a communist country.
The third philatelic movement in the Czechoslovakia was created by Russian philatelists. After the Communist Revolution in Russia in October 1917 many people left Russia and Prague become one of the European centers of Russian emigrants. Among them was huge quantity of stamp collectors, so Russian philatelist Mr. Judenkoff founded in Prague philatelic journal Filatelija written in Russian language in the 20s.
A big philatelic show in Slovakia was organized in Bratislava in 1937. It was first philatelic show, which was celebrated by Postal Administration by a souv. sheet .
Bratislava 1937 souv. sheet
This stamp show was celebrated also by another way. Czechoslovak Postal Administration prepared for VIP visitors and exhibitors special albums of postage stamps, which were issued early in the 30s with different perforation then the normal stamps - e.g. the air mail stamps of 1930 having face value of 5 CSK and perforation 12 (in Czech catalogs the perforation is sized as 12 ¼ ; Czechoslovakia, Scott C15a). In the next year an international stamp show PRAGA 38 was organized in Prague. The PRAGA philatelic exhibitions are still alive as can be proved by last PRAGA 98 one. Traditionally it is organized every 10 years in a year ending by 8.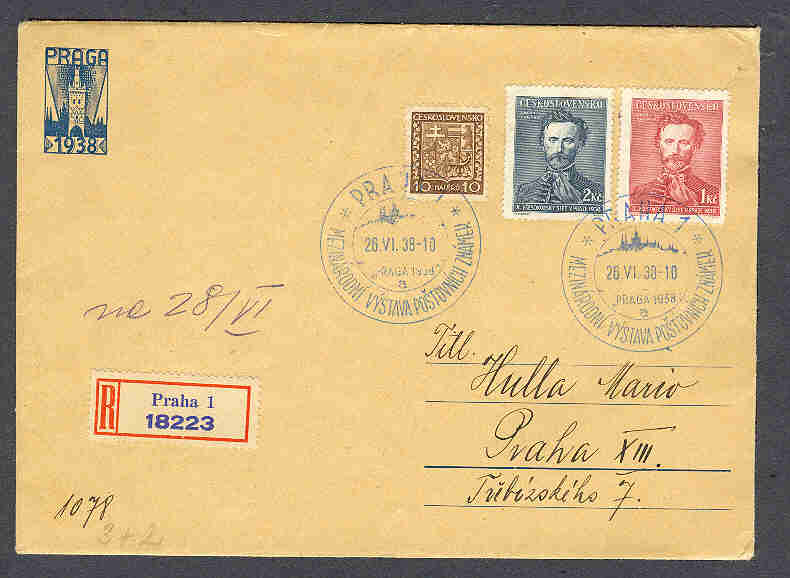 A philatelic letter sent from the 1938 exhibition
In September 1938 Czechoslovak border areas were occupied by Germany, Poland and Hungary. On March 14, 1939 Slovakia broke away from Czechoslovakia to become an independent state and on next day Bohemia and Moravia were totally occupied by Germany (creating so called Protectorate Bohemia and Moravia).
Philatelic life was influenced by World War II, but in early 40s yet a lot of exhibitions were organized in Bohemia and Moravia. At that time the German authorities were not strong in such matters, which can be shown by a series of exhibitions organized in 1940 to commemorate the 100th anniversary of first postage stamp issued by enemy Great Britain ! But this "limited freedom" ended quickly and some of the philatelists emigrated, others were sent to prisons or concentration camps, and their collections were nationalized by German Reich . This black period can be illustrated by following articles from philatelic journal Tribuna filatelistu.
First notice of 1941 (see Tribuna filatelistu of 1941, no. 4, page 61) is information – order to the Jewish private persons + companies to give their collections "into protection" of banks until March 15, 1941 . Later the collection were nationalized by Germany .
The German authorities of Protectorate forbid yet in 1939 the foreign exchange of postage stamps . After begin of WWII, the authorities issued regularly lists of stamps of enemy countries, which could not be collected, e.g. in 1939 the French stamps were forbidden, but in 1940 their collecting was again allowed, because France was beaten by Germany. In 1942 was prepared comprehensive list of forbidden stamps – see one of its pages on (see Tribuna filatelistu of 1942, no. 12, pages 118-119), which collecting, trade and/or exhibiting is prohibited You can see, this list contains e.g. all Canadian stamps issued from 1935 or all US stamps issued from 1938 . The list also contains all issues of governments-in-exile.
On other side, the editor of the Tribuna filatelistu (and editors of other philatelic journals) tried to remember the existence of Czechoslovakia by various articles discussing "former" Czechoslovak stamps using for illustrations as much as possible stamps with pictures of Czechoslovak President Masaryk. This was the only possible way how to write about Czechoslovakia and how to receive permission of censors to publish a text. Because of economic problems of Germany during WWII resulting e.g. with luck of paper, the issuance of all philatelic journals in Protectorate was stopped in 1944 .
However whole Czechoslovak territory was under strong German command, the fight against Germany continued abroad. In March 1939 Messrs. Lowey and Stein met in New York City and founded Czechoslovak Philatelic Society of North America, later re-named to Society for Czechoslovak Philately, Inc. . In May 1939 first issue of its philatelic journal The Czechoslovak Specialist was published.
In 1939-40 World's Fair was organized in New York. Czechoslovakia originally wanted to participate in the fair, but after occupation of its territory in March 1939 the German authorities refused it. The representatives of former state being in Great Britain and in the USA decided to promote Czechoslovakia by opening its pavilion . To earn money for the purpose, they overprinted Czechoslovak stamps selling them to the visitors of the Fair.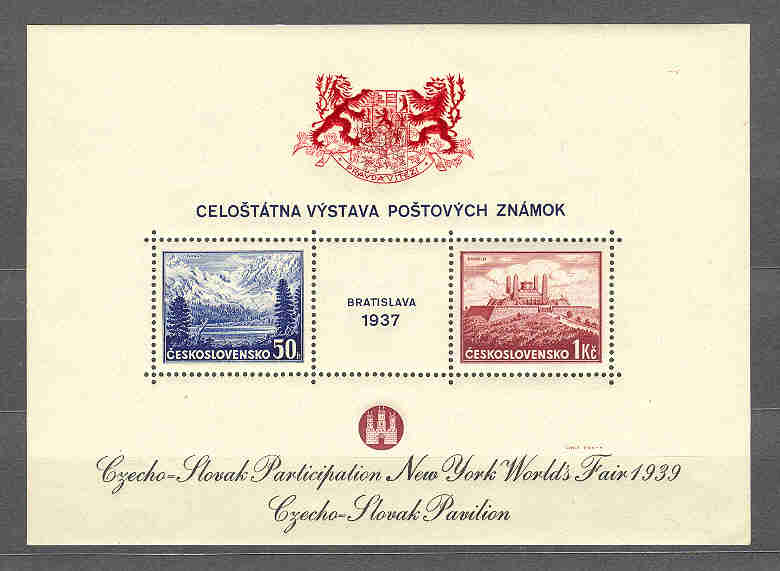 A Czechoslovak Bratislava 1937 souv. sheet bearing the overprint .
Of course, such issues were not valid in postal operations, they are souvenirs only. The N.Y. souv. sheets were smuggled to the Protectorate, however their ownership was criminal there. The most used way led via Denmark to Prague.
In 1942 Mr. J. Tauber living in England founded Czechoslovak Philatelic Society . Majority of members of the organization were soldiers serving in Czechoslovak forces in Great Britain. Members of the society took part in the 1943 London exhibition (see next paragraph). In 1944 many of them left England for Normandy and fighting in Europe, so the society's activity was reduced. This lasted by 1953, when the Czechoslovak Philatelic Society of Great Britain was founded .
To celebrate the 25th anniversary of establishing of Czechoslovakia, the Czechoslovak - in exile government in co-operation with collectors of Czechoslovak stamps organized a philatelic exhibition in London in 1943. They prepared special souv. sheet (without postal validity as well) to the occasion .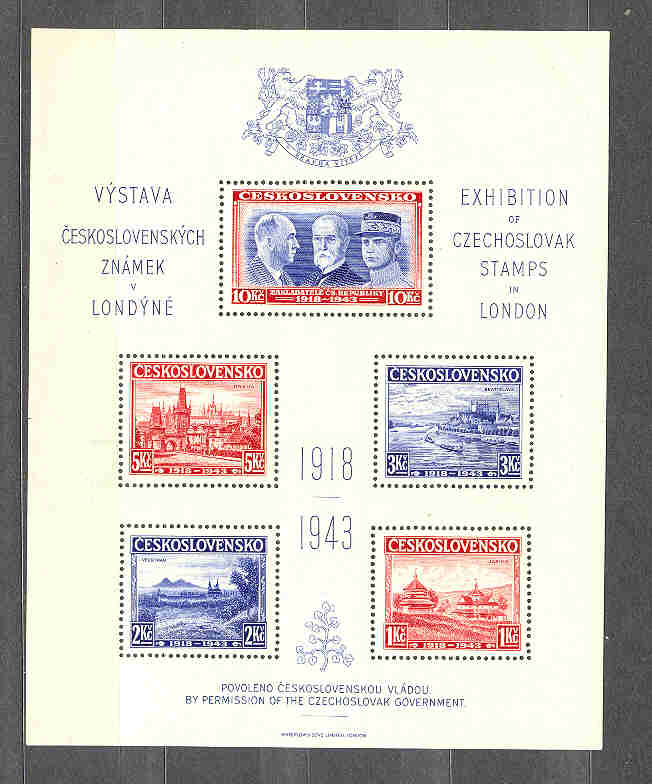 London souv. sheet for exile phil. Exhibition of 1943
During WWII German Army totally destroyed a small village Lidice and killed all men living there (women and children were sent to the concentration camps) in frame of an action aimed at Czech supporters of assassins killing gen. Heydrich, the head of German authorities in Protectorate Bohemia and Moravia. The village destruction was commemorated in Belgium by a stamp show in Brussels in 1945. To the show two special souv. sheets (again without postal validity, but with permission of Belgian Postal Administration) were issued .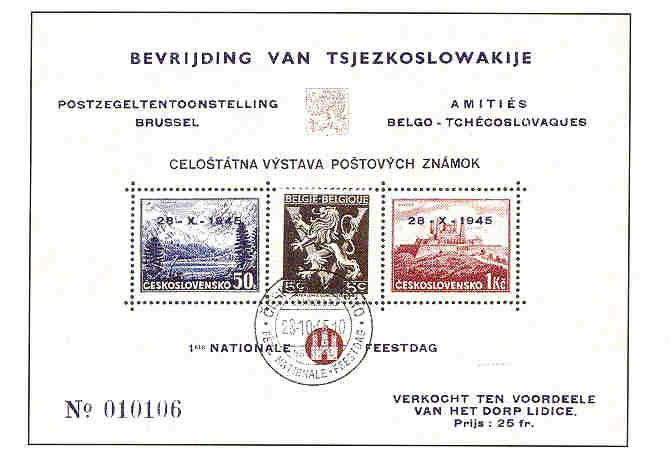 Both WWI and WWII served to the governments to collect more money from population of their states. The same situation was in Austro-Hungarian Monarchy during WWI and as well as in German Third Reich during WWII, in both cases stamp collectors played important role in contributing to the state. During WWI Austrian and Hungarian Postal Administrations issued totally about 50 stamps with surcharges for the war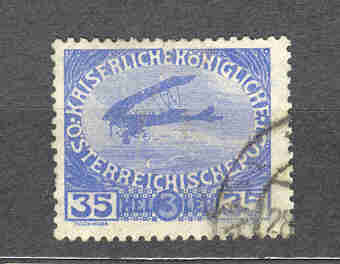 An Austrian stamp showing mil. airplane with face value of 35 Hellers and surcharge 3 Hellers (Scott Austria no. B7)
Later the situation was more difficult. In 1938 Germany, Poland and Hungary occupied as per Munich Accord the border areas of Czechoslovakia. The Czech people should left the areas and to move to the rest of unoccupied state. To earn money for their settlement in new areas, the Czechoslovak Postal Administration issued a souv. sheet (Czechoslovakia, Scott no. B153) with face value of 2 Crowns and surcharge of 8 Crowns.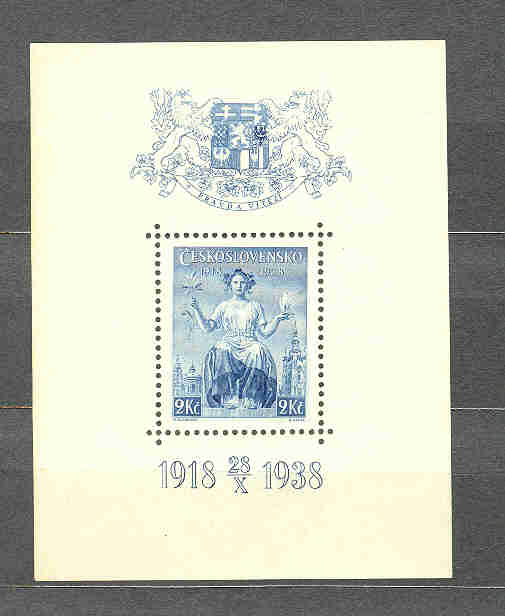 Another reason led the Postal Administration of Protectorate Bohemia and Moravia (under German occupation) to issue totally 21 postage stamps in years 1943 - 1945, of which 14 were stamps with a surcharge. The earn money should go to German Red Cross to care for injured soldiers of Russian line of battle and to another German programs aimed at winning the war. Typical (and tragicomic) case is following stamp: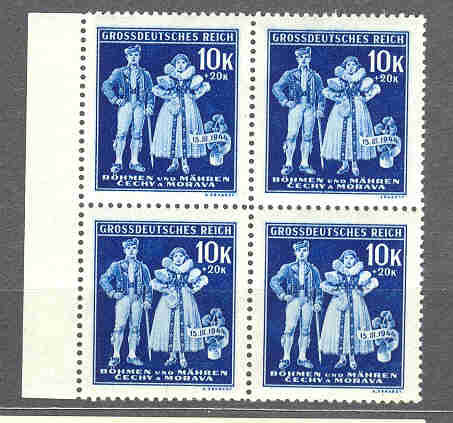 It was issued in 1944 to celebrate 5th anniversary of German occupation of Czechoslovakia and establishing of the Protectorate (Scott Czechoslovakia - Bohemia and Moravia, no. B24). This stamp having face value 10 Crowns had surcharge of 20 Crowns payable to Germany as thanks for Czech occupation ! Who of Czechs would not like to contribute to the occasion ?!!!
The restoration of philatelic life occurred in 1945 after liberation of Czechoslovakia by the Allies. The prisoners returned from concentration camps and jail houses, Union of Czechoslovak Philatelists was re—founded, Czech philatelic journals started to be published.
An advertisement published in journal Ceskoslovenska filatelie, no. 10/ 1945, page 150 informing the readers, that former stamp dealer R. Röschenthaler returned from internation camp in Germany, changed his family name to Vysehradsky and re-opened his business in Prague again
The whole period 1938 – 1945 was characterized by selling of postage stamps abroad – sometimes legal, but often illegal. In 1938 this situation was caused by emigration of many stamp dealers and collectors (especially Jewish ones) from Czechoslovakia. This was case e.g. of Mr. Kessler, who emigrated to the USA and took his whole stock with him.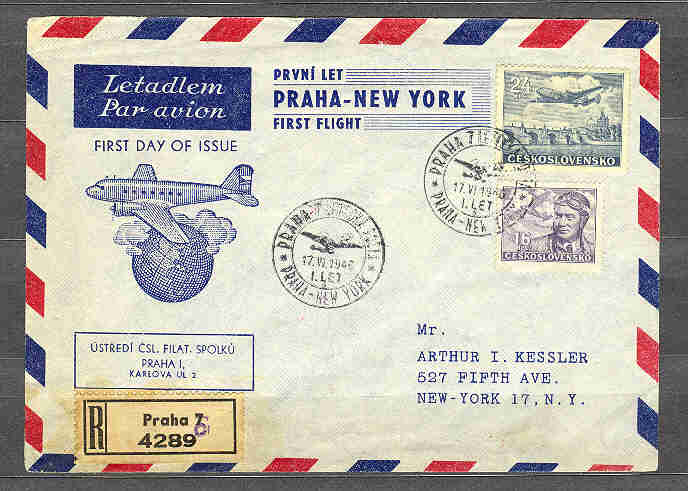 A letter sent to the stamp dealer by first direct air mail route Prague – New York in 1946
After German occupation of Czechoslovakia any private stamp export was not allowed, but there existed channels , through which the Czechoslovak stamps were sold abroad and the issues of Czechoslovak government-in-exile were transported in opposite direction . Because of war troubles people use to sell their collections to buy the needed thinks for their families or exchanged stamps for food. This situation continued for short period after end of WWII and it was used by some American collectors / dealers offering food and dollars for stamp collections

An add of an American stamp dealer published in the Ceskoslovensky filatelista of 1946 (no. 1, page 10)
In 1945 majority of German population of Czechoslovakia was moved to Germany and Austria in respect of agreement between Czechoslovakia and Allies. Property of the people was than nationalized by Czechoslovak state as per President's Benes Order of October 25, 1945 . This procedure was valid for the stamps as well – the full wording of an order of July 10, 1946 describing what to do with the nationalized philatelic items was published in the Ceskoslovenska filatelie no. 16 /1946, pages 218-9.
Philatelic exhibitions were organized again after WWII. In 1945 only few local exhibitions were organized, but yet in 1946 the first most important exhibition was held in Brno
A letter sent from the exhibition with special souv. sheet
Philately gained a new dimension in 1948, when Communists took over the government of Czechoslovakia and philately becomes state policy. Yet in 1939 German authorities forbidden the foreign stamps exchange. This situation lasted by 1946, when Czechoslovak authorities decided to allow the foreign stamp exchange, but only if made through Union of Czechoslovak Philatelists. In 1948 a special body called Stredisko zahranicni vymeny (=Foreign Exchange Center) was founded for the purpose. This center worked by 1989 and first in 1990 the free foreign stamp exchange was allowed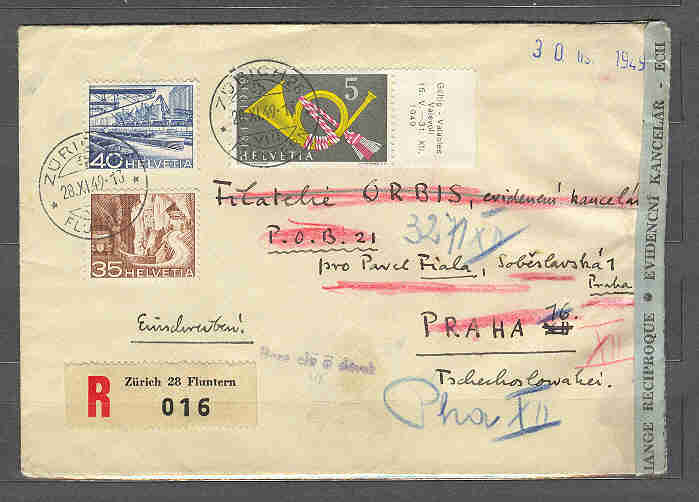 A letter sent from Switzerland to Czechoslovakia in 1949 containing stamps delivered to addressee via evidence office of ORBIS Filatelie co-operating with the Foreign Exchange Center
It was also not allowed to collect, trade and/or exhibit the German stamps 1939-45 as well as the stamps of Protectorate Bohemia and Moravia after 1948, because they celebrate Nazi ideas. By the same decision, the collecting of Czechoslovak exile issues (from New York 1939 – Bruxelles 1945) was forbidden ("they were done by speculating dealers") as well. This caused a "black market", where such stamps were traded, but for high prices. First in the 90s it was not forbidden to collect such material and the phil. journals of that time were full of articles on the stamps, which were carefully studied by their readers.
When we talk about trading of philatelic items, it is needed to say, that in the 50s all private stamp dealer companies were united into state company POFIS, which was the monopoly player in domestic stamp trading by 1989. For international stamp trading the state founded company Artia, which was the only authorized international stamp dealer of Czechoslovakia.
In 1949 the philatelic clubs were incorporated into Trade Unions and all independent ones were closed. The new situation influenced exhibitions of early 50s, e.g. PRAHA 1950 . They contained only common philatelic exhibits of trade union philatelic clubs, exhibits of private persons were not allowed. The common collecting should become new way of philately, but because of little support given by the collectors this program it was left by half of the 50s and the exhibits of private collectors were re-allowed (e.g. in PRAGA 55 one) .
Year 1959 prepared two new types of exhibitions :
Friendship exhibitions between Czech town Strakonice and East German town Zwikau . This was the first of them soon followed by friendship exhibitions between two countries (like Czechoslovakia – USSR) or among two and more towns/regions/countries (like Bratislava /Slovakia/ – Cracovia /Poland/ – Kyjev /Ukraine/ . From these exhibitions the international SOCFILEX exhibitions open only for collectors coming from communist countries were developed. First SOCFILEX exhibition was organized in 1976 in Prague, from 1980 the exhibition was prepared for youth collectors as well (JUNIORSOCFILEX first time hold in Pilsen) ;
In Brno was organized first exhibition aimed only at topical exhibits called "1. vystava motivovych sbirek v CSR". This exhibition type was successful and it was repeated than regularly every year.
Philatelic top event was the PRAGA 62 exhibition, which was the worldwide first world philatelic exhibition. The Union of Czechoslovak Philatelists established in respect of PRAGA 62 exhibition first Commission as its special body managing a philatelic area. The first one was Postal History Commission followed soon by Traditional Philately Commission and Topical Philately Commission.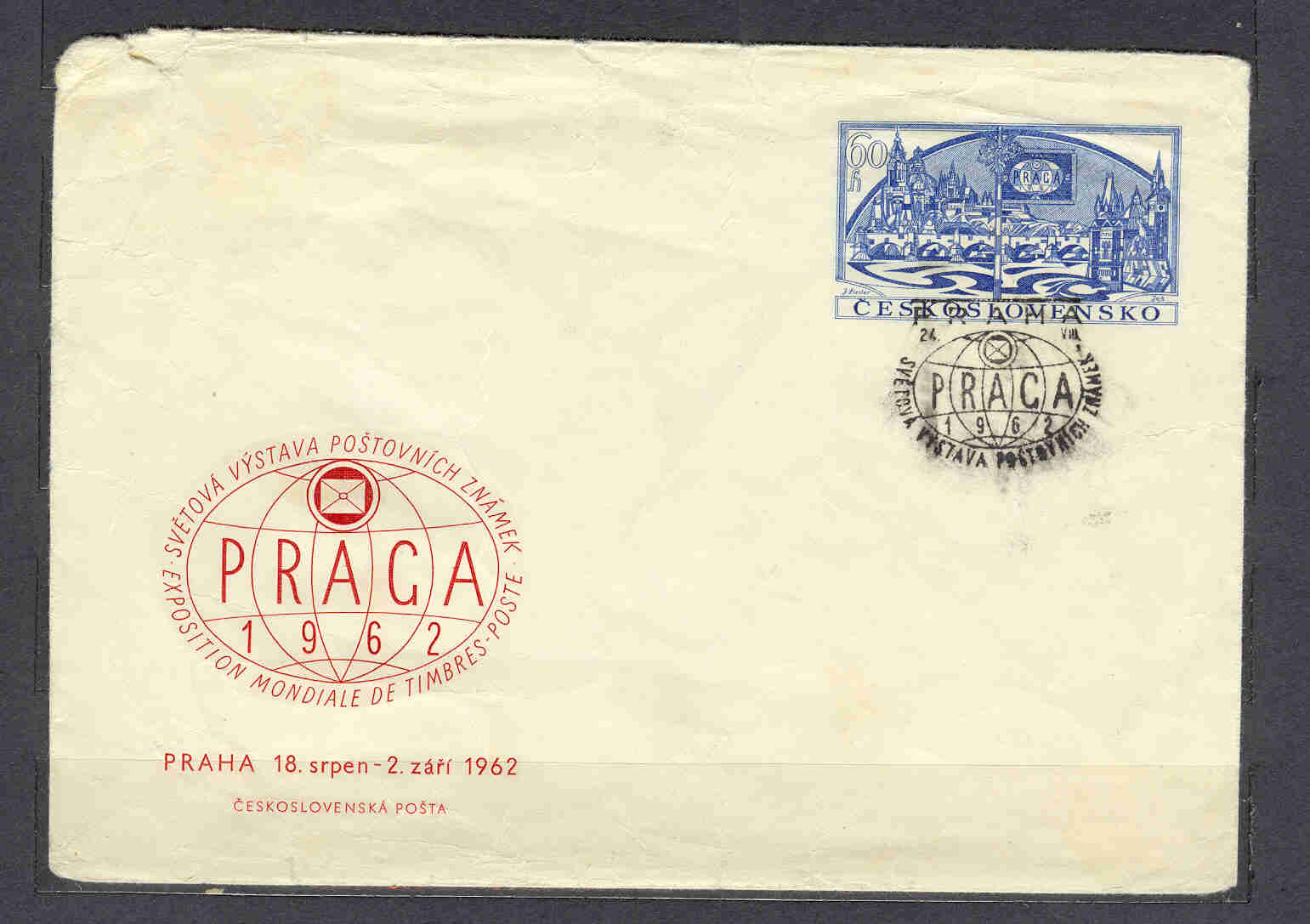 Postal Stationary issued for PRAGA 1962
In 1966 the first postal history exhibition in Czechoslovakia called "1. vystava specializovanych oboru" was organized in Brno in co-operation with Postal History Commission .
The Commissions soon realized that their areas are too wide so they decided to create more specialized organizations – so called sections. First of them were founded in 1966 + 1967 – among first section we can mention Soviet Union and Eastern Germany sections founded by Traditional Philately Commission, Bohemoslovenika and Cosmos sections created by Topical Philately Commission or Postal Stationery section founded by Postal History Commission.
There is no miracle that among first sections we find Soviet Union or Eastern Germany sections. Their goal was to build way to another sections. Their founding was described as way how to promote collecting of stamps of the "brother" countries, how to establish co-operation and friendly relations among collectors from that countries etc. . These reasons were so strong, that nobody had courage to forbid them. Because the sections were very successful, all the authorities supported creation of new sections and found enough money for their activities.
From the 60s some of the top philatelic collectors as well as state authorities got an idea, that any philatelic exhibit should express a political view and the collectors should support communist ideology. This idea was immediately applied in exhibits evaluation at philatelic exhibitions, in building of exhibits for political themes like "Soviet Revolution in Russia (1917)" or "February 1948 in Czechoslovakia". Later a philatelic section of Novodobe politicke dejiny = Political History Section was founded (it is no joke, it really existed !). Readers with knowledge of Czech language could look at book of Mr. Sramek (see sources section) – especially pages 33 – 38, 43 – 48, 51 + 227-231, 90-97, 111-3 and finally 232-257 show, how the idea was applied in practical terms !
However political exhibits were not popular among visitors, the organizers of exhibitions welcome them, because they use them as argument for authorities to permit the exhibition and to receive a financial contribution from the authorities. That is reason, why so much philatelic exhibitions from that time bears in their name various political events or name of communism leaders, however majority exhibits were the normal ones.
On other side, when collectors asked to create section of US stamps, they didn't receive permission because "communist man" doesn't collect such stamps. They re-tried it later under name UN stamps section and they received the needed permission, because support to UN was politically correct. The fact, that only few of them collect the UN stamps and majority collects the US stamps was no problem…. . Similar situation was with British stamps section, which was originally called "Oversea" and officially the members of the section collect stamps of African and Asian developing countries, however majority of them collected British and Canadian stamps. The creation of any philatelic organization was political step (however it is stupid!) - when authorities allowed creation of Western Germany philatelic section in late 80s –everybody saw, that communist government in Czechoslovakia will finish soon, which really occurred.
This system of state paternalism resulted on one side by large quantities of philatelic exhibitions on all levels (local, regional, county, Czech and Slovak national + Czechoslovak federal exhibitions), but on other side only the state was authorized to say, what to do in philately. Example of such procedure could be state decision, that philately is the right hobby for soldiers serving in army. It started action among soldiers to make collecting popular and in 1970 organized first military philatelic exhibition in Lipnik / Becvou .
The Union of Czechoslovak Philatelists had very sophistic procedure how to find new members and enlarge own importance and influence among another societies and clubs. This way was developed in close co-operation with Czechoslovak Postal Administration . The Postal Administration issued so called "vazane hodnoty" (= rationed stamps), which were distributed in first line to the Union's members and if any remained, they were distributed to non-registered collectors. It existed rule limiting the quantity distributed to every member to 1 piece, so the collectors registered as Union's members their wife, friends or anybody else to receive more of such stamps for trade. By this way the number of members reached 80 000 people in 1984. After closing of the system in 1990, only 20.000 collectors remained members of the Union of Czechoslovak Philatelists. If are you looking for an example of such issue, please refer to set "Pardubice Steeplechase of 1978, and look at stamp no. 2207 (Scott – Czechoslovakia). Similar role played also imperforated souv. sheets like Soviet-US Summit of 1988 (Czechoslovakia, Scott no. 2709), which were also distributed in first line to the Union's members.
This state's "support" finished in 1990, when the Union of Czechoslovak Philatelists becomes a truly independent organization. This freedom was paid by end of state money financing various philatelic actions. In first years after the Velvet Revolution the quantity of philatelic exhibitions drastically decreased. The state financial support was substituted by private financial resources (especially from newly existing undertakers), that were insufficient to provide all the sections and organizations with needed money.
Many of the sections and collector's clubs were closed, philatelic journals finished their existence, number of members of all philatelic organizations decreased and the quantity of competitive exhibitions was limited to few national exhibitions in a year .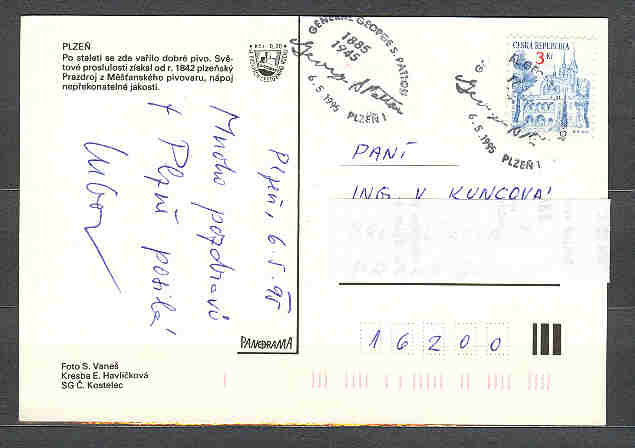 A card sent from Czech national exhibition in Pilsen celebrating 50th anniversary of WWII end and liberation of Czechoslovakia by all Allies with signature of US general Patton
On other side in the early 90s the private stamp dealers, new clubs, journals or auction companies were open. The philatelic exhibitions are now usually organized by larger collector ´s clubs (e.g. Brno 2002 by local philatelic clubs of the town) with limited support of Czech Postal Administration and Union of Czech Philatelists.
Another important change occurred in 1993, when Czechoslovakia was divided into two independent countries : Czech Republic and Slovak Republic. The federal Union of Czechoslovak Philatelists was closed and its activity was forwarded to existing Union of Czech Philatelists and Union of Slovak Philatelists. Commissions and sections were in more complicated situation, because they were common for both republics. The situation was decided so, that all existing Commissions and sections remained as part of Union of Czech Philatelists, but open for Slovak collectors (with only exception of Hungary section, because majority of its members traditionally lived in Slovakia, so this only one was "transferred" to Union of Slovak Philatelists).
In the meantime the Slovak collectors built their own sections and thanks to the fact decreased quantity of Slovak people participates in the Czech philatelic sections. On other side a lot of them is still member of Czech ones and there are known examples, when editor of a "Czech" philatelic bulletin lives in Slovakia .
The last important phil. exhibition was hold in Brno in 2000. It was an international stamp show, for which the Czech Postal Administration prepared two suppresses – it was issued first Czech automated stamp and postal administration introduced "new age delivery system" called "hybrid post". This system is combination of normal postal delivery with e-mails and enables "supersonic" sending of huge quantities of messages. Both new items you can see bellow: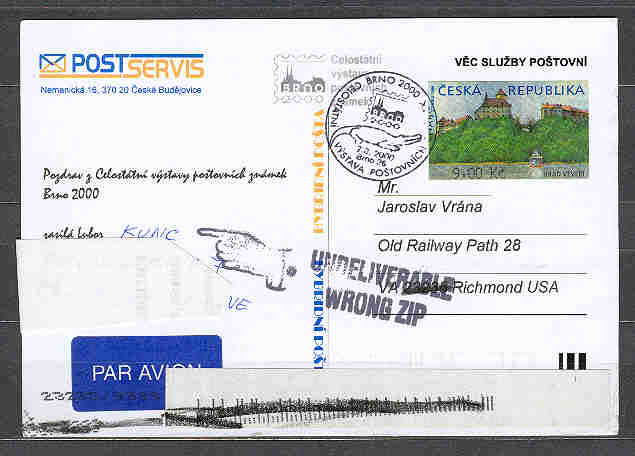 This is a message printed on hybrid post card, but send by normal airmail post to USA (because the hybrid post works only on the Czech territory) . The airmail postage was paid by first Czech automated stamp.
At the end I would like to draw your attention to exhibitions celebrating Czechoslovak stamps hold abroad. We can divide them into two parts :
exhibitions organized by Czechoslovak authorities (Embassy, Postal Museum, Postal Administration, Union of Philatelists) to promote Czechoslovakia and Czechoslovak stamps
exhibitions organized by foreign bodies (philatelic clubs, societies, but also non-philatelic persons) to celebrate any Czechoslovak event (e.g. founding of Czechoslovakia) or to celebrate any anniversary of the organizing body (e.g. founding of a club) .
I don't know any exhibition hold on territory of Northern America belonging to the group no. 1. Few exhibitions from second group are known to me – e.g. the 1958 exhibition celebrating the 40th anniversary of founding of Czechoslovakia or the 1959 exhibition commemorating the 20th anniversary of SCP existence. Another exhibitions were organized also by First Czechoslovak Philatelic Club of America . Special position belongs to the CZECHOPEX exhibitions, which had been hold regularly. Unfortunately, there is no list of such exhibitions organized in Northern America, so I can not mention more details about the theme.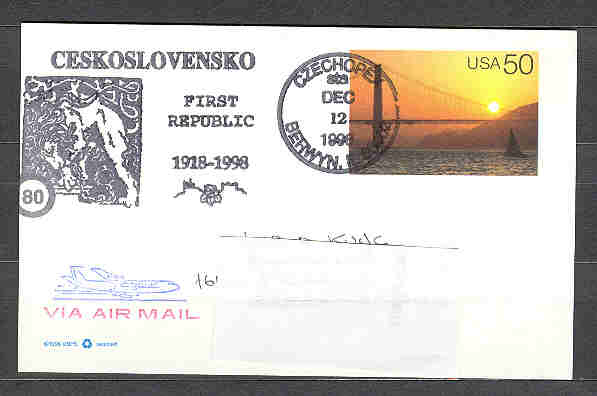 A card sent from CZECHOPEX 1998
Here I would like to ask you, readers of the Specialist, for co-operation. If anybody of you knows about non-listed philatelic exhibition, please send me an e-mail and I will add the event to the list. Thank you!
However we have discussed not only the philatelic exhibitions, I hope the tour was not boring for you . Any of your comments or discoveries are much welcome .
Sources :
a) books
- V. Nebesky :"Filatelistovo podzimni rozjimani", Praha, 1975
- F. Sramek : "Filateliste a filatelie", Praha, 1988
- E. Dissen : "The Issues of Czechoslovakia for the 1939-1940 New York World's Fair", Amsterdam, 1998
b) journals
- journal Tribuna filatelistu, Praha, years 1940 – 1942
- journal Ceskoslovenska filatelie, Praha, years 1945 – 1946
- L. Kunc Informace journal no. 148, article "Stopy ceskych filatelistickych obchodniku v USA, Hradec Kralove, 2001
http://czechphilatelist.tripod.com/obchodnici/
c) Internet
- B. Janik : Bibliography on the web site http://www.japhila.cz
- L. Kunc : Bibliography on the web site http://czechphilatelist.tripod.com/biblio/
- L. Kunc : Exhibitions on the web site
http://czechphilatelist.tripod.com/vystavy/
- J. Verner : Web site of Society for Czechoslovak Philately Inc., USA
http://www.czechoslovakphilately.com
- I. Nickson : Web site of Czechoslovak Philatelic Society of. G.B., UK http://www.cpsgb.freeserve.co.uk/
Important Information :
No part of the article my be reproduced or reprinted in any form or by any means - graphic, electronic, or mechanical, including photocopying, taping, or information storage and retrieval systems without written permission of the author.
You can send your comments direct to the Author of the article by
e-mail