THEFT OF UNIQUE CZECHOSLOVAK GUTTERS !!!
On September 21, 2003 an entire sack of registered mail was stolen at J. F. Kennedy Airport. In it were two unique unfolded Czechoslovak Hradcany gutters, one mint, the other canceled at Nachod, both bearing provisional postage due markings.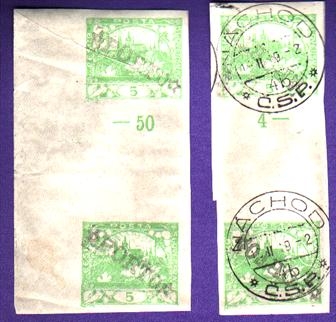 A full description of these two pieces may be found in the May/June 2003 issue of the

Czechoslovak Specialist. A copy of the article and a large scan of the two gutters may also be found on-line

at my personal web site www.knihtisk.com .

These gutters are especially important as they uniquely demonstrate that a second, unknown and unfolded, gutter sheet reached public hands. Until their discovery in 2002, it was thought that only one sheet, which was folded, had reached public hands. As unique items, their value is of course priceless.

A reward is offered for their return. Interested parties may reach me on-line at info@knihtisk.com, or by phone:

1-304-229-0100 Office (Dr. Mark Wilson)

1-540-877-3015 Home (Mark Wilson)

or by writing to:

Mark Wilson, Librarian

Society for Czechoslovak Philately Library

316 Devland Drive

Winchester VA 22603.

THANK YOU FOR YOUR HELP WITH FINDING OF THE UNIQUE CZECHOSLOVAK STAMPS !!!